Strict Standards
: Non-static method DataAccess::fetch() should not be called statically in
/home4/kevinj/public_html/news/index.php
on line
298
Strict Standards
: Non-static method DataAccess::establish_db_conn() should not be called statically in
/home4/kevinj/public_html/news/class/mysql.php
on line
72
Deprecated
: mysql_connect(): The mysql extension is deprecated and will be removed in the future: use mysqli or PDO instead in
/home4/kevinj/public_html/news/class/mysql.php
on line
22
Deprecated
: mysql_escape_string(): This function is deprecated; use mysql_real_escape_string() instead. in
/home4/kevinj/public_html/news/class/mysql.php
on line
83
Deprecated
: mysql_escape_string(): This function is deprecated; use mysql_real_escape_string() instead. in
/home4/kevinj/public_html/news/class/mysql.php
on line
83
Strict Standards
: Non-static method DataAccess::fetch() should not be called statically in
/home4/kevinj/public_html/news/index.php
on line
306
Strict Standards
: Non-static method DataAccess::establish_db_conn() should not be called statically in
/home4/kevinj/public_html/news/class/mysql.php
on line
72
Deprecated
: mysql_connect(): The mysql extension is deprecated and will be removed in the future: use mysqli or PDO instead in
/home4/kevinj/public_html/news/class/mysql.php
on line
22
Deprecated
: mysql_escape_string(): This function is deprecated; use mysql_real_escape_string() instead. in
/home4/kevinj/public_html/news/class/mysql.php
on line
83
Deprecated
: mysql_escape_string(): This function is deprecated; use mysql_real_escape_string() instead. in
/home4/kevinj/public_html/news/class/mysql.php
on line
83
Strict Standards
: Non-static method DataAccess::fetch() should not be called statically in
/home4/kevinj/public_html/news/index.php
on line
388
Strict Standards
: Non-static method DataAccess::establish_db_conn() should not be called statically in
/home4/kevinj/public_html/news/class/mysql.php
on line
72
Deprecated
: mysql_connect(): The mysql extension is deprecated and will be removed in the future: use mysqli or PDO instead in
/home4/kevinj/public_html/news/class/mysql.php
on line
22
Strict Standards
: Non-static method DataAccess::fetch() should not be called statically in
/home4/kevinj/public_html/news/index.php
on line
399
Strict Standards
: Non-static method DataAccess::establish_db_conn() should not be called statically in
/home4/kevinj/public_html/news/class/mysql.php
on line
72
Deprecated
: mysql_connect(): The mysql extension is deprecated and will be removed in the future: use mysqli or PDO instead in
/home4/kevinj/public_html/news/class/mysql.php
on line
22
Strict Standards
: Non-static method DataAccess::fetch() should not be called statically in
/home4/kevinj/public_html/news/index.php
on line
435
Strict Standards
: Non-static method DataAccess::establish_db_conn() should not be called statically in
/home4/kevinj/public_html/news/class/mysql.php
on line
72
Deprecated
: mysql_connect(): The mysql extension is deprecated and will be removed in the future: use mysqli or PDO instead in
/home4/kevinj/public_html/news/class/mysql.php
on line
22
Deprecated
: mysql_escape_string(): This function is deprecated; use mysql_real_escape_string() instead. in
/home4/kevinj/public_html/news/class/mysql.php
on line
83
Deprecated
: mysql_escape_string(): This function is deprecated; use mysql_real_escape_string() instead. in
/home4/kevinj/public_html/news/class/mysql.php
on line
83
Deprecated
: mysql_escape_string(): This function is deprecated; use mysql_real_escape_string() instead. in
/home4/kevinj/public_html/news/class/mysql.php
on line
83
Strict Standards
: Non-static method DataAccess::fetch() should not be called statically in
/home4/kevinj/public_html/news/index.php
on line
524
Strict Standards
: Non-static method DataAccess::establish_db_conn() should not be called statically in
/home4/kevinj/public_html/news/class/mysql.php
on line
72
Deprecated
: mysql_connect(): The mysql extension is deprecated and will be removed in the future: use mysqli or PDO instead in
/home4/kevinj/public_html/news/class/mysql.php
on line
22
Deprecated
: preg_replace(): The /e modifier is deprecated, use preg_replace_callback instead in
/home4/kevinj/public_html/news/bbparser.php
on line
122
Strict Standards
: Non-static method DataAccess::fetch() should not be called statically in
/home4/kevinj/public_html/news/functions.php
on line
558
Strict Standards
: Non-static method DataAccess::establish_db_conn() should not be called statically in
/home4/kevinj/public_html/news/class/mysql.php
on line
72
Deprecated
: mysql_connect(): The mysql extension is deprecated and will be removed in the future: use mysqli or PDO instead in
/home4/kevinj/public_html/news/class/mysql.php
on line
22
Deprecated
: mysql_escape_string(): This function is deprecated; use mysql_real_escape_string() instead. in
/home4/kevinj/public_html/news/class/mysql.php
on line
83
Deprecated
: mysql_escape_string(): This function is deprecated; use mysql_real_escape_string() instead. in
/home4/kevinj/public_html/news/class/mysql.php
on line
83
Deprecated
: mysql_escape_string(): This function is deprecated; use mysql_real_escape_string() instead. in
/home4/kevinj/public_html/news/class/mysql.php
on line
83
Deprecated
: preg_replace(): The /e modifier is deprecated, use preg_replace_callback instead in
/home4/kevinj/public_html/news/bbparser.php
on line
122
Deprecated
: preg_replace(): The /e modifier is deprecated, use preg_replace_callback instead in
/home4/kevinj/public_html/news/bbparser.php
on line
122
Deprecated
: preg_replace(): The /e modifier is deprecated, use preg_replace_callback instead in
/home4/kevinj/public_html/news/functions.php
on line
593
Deprecated
: preg_replace(): The /e modifier is deprecated, use preg_replace_callback instead in
/home4/kevinj/public_html/news/functions.php
on line
660
Deprecated
: preg_replace(): The /e modifier is deprecated, use preg_replace_callback instead in
/home4/kevinj/public_html/news/functions.php
on line
679
Deprecated
: preg_replace(): The /e modifier is deprecated, use preg_replace_callback instead in
/home4/kevinj/public_html/news/bbparser.php
on line
122
Strict Standards
: Non-static method DataAccess::fetch() should not be called statically in
/home4/kevinj/public_html/news/functions.php
on line
558
Strict Standards
: Non-static method DataAccess::establish_db_conn() should not be called statically in
/home4/kevinj/public_html/news/class/mysql.php
on line
72
Deprecated
: mysql_connect(): The mysql extension is deprecated and will be removed in the future: use mysqli or PDO instead in
/home4/kevinj/public_html/news/class/mysql.php
on line
22
Deprecated
: mysql_escape_string(): This function is deprecated; use mysql_real_escape_string() instead. in
/home4/kevinj/public_html/news/class/mysql.php
on line
83
Deprecated
: mysql_escape_string(): This function is deprecated; use mysql_real_escape_string() instead. in
/home4/kevinj/public_html/news/class/mysql.php
on line
83
Deprecated
: mysql_escape_string(): This function is deprecated; use mysql_real_escape_string() instead. in
/home4/kevinj/public_html/news/class/mysql.php
on line
83
Deprecated
: preg_replace(): The /e modifier is deprecated, use preg_replace_callback instead in
/home4/kevinj/public_html/news/bbparser.php
on line
122
Deprecated
: preg_replace(): The /e modifier is deprecated, use preg_replace_callback instead in
/home4/kevinj/public_html/news/bbparser.php
on line
122
Deprecated
: preg_replace(): The /e modifier is deprecated, use preg_replace_callback instead in
/home4/kevinj/public_html/news/functions.php
on line
593
Deprecated
: preg_replace(): The /e modifier is deprecated, use preg_replace_callback instead in
/home4/kevinj/public_html/news/functions.php
on line
660
Deprecated
: preg_replace(): The /e modifier is deprecated, use preg_replace_callback instead in
/home4/kevinj/public_html/news/functions.php
on line
679
Deprecated
: preg_replace(): The /e modifier is deprecated, use preg_replace_callback instead in
/home4/kevinj/public_html/news/bbparser.php
on line
122
Strict Standards
: Non-static method DataAccess::fetch() should not be called statically in
/home4/kevinj/public_html/news/functions.php
on line
558
Strict Standards
: Non-static method DataAccess::establish_db_conn() should not be called statically in
/home4/kevinj/public_html/news/class/mysql.php
on line
72
Deprecated
: mysql_connect(): The mysql extension is deprecated and will be removed in the future: use mysqli or PDO instead in
/home4/kevinj/public_html/news/class/mysql.php
on line
22
Deprecated
: mysql_escape_string(): This function is deprecated; use mysql_real_escape_string() instead. in
/home4/kevinj/public_html/news/class/mysql.php
on line
83
Deprecated
: mysql_escape_string(): This function is deprecated; use mysql_real_escape_string() instead. in
/home4/kevinj/public_html/news/class/mysql.php
on line
83
Deprecated
: mysql_escape_string(): This function is deprecated; use mysql_real_escape_string() instead. in
/home4/kevinj/public_html/news/class/mysql.php
on line
83
Deprecated
: preg_replace(): The /e modifier is deprecated, use preg_replace_callback instead in
/home4/kevinj/public_html/news/bbparser.php
on line
122
Deprecated
: preg_replace(): The /e modifier is deprecated, use preg_replace_callback instead in
/home4/kevinj/public_html/news/bbparser.php
on line
122
Deprecated
: preg_replace(): The /e modifier is deprecated, use preg_replace_callback instead in
/home4/kevinj/public_html/news/functions.php
on line
593
Deprecated
: preg_replace(): The /e modifier is deprecated, use preg_replace_callback instead in
/home4/kevinj/public_html/news/functions.php
on line
660
Deprecated
: preg_replace(): The /e modifier is deprecated, use preg_replace_callback instead in
/home4/kevinj/public_html/news/functions.php
on line
679
Deprecated
: preg_replace(): The /e modifier is deprecated, use preg_replace_callback instead in
/home4/kevinj/public_html/news/functions.php
on line
1332
Deprecated
: preg_replace(): The /e modifier is deprecated, use preg_replace_callback instead in
/home4/kevinj/public_html/news/functions.php
on line
1335
Happy Holiday Updates
- Posted by
Kevin
- Posted on 12/09/13 07:35AM
Happy Holidays from LiveOnceEnjoy.com!
Liveonceenjoy.com is proud to announce to the purchase of new domains. We have recently purchased the liveonceenjoy.org, liveonceenjoy.net and liveonceenjoy.info domains in addition to finally getting around to renewing the liveonceenjoy.com domain. Be on the lookout for new and exciting things to happen over Q1-2014. We will be implementing a new backend management system which will allow all parts of the website to be unified into a single system. This means more updates, articles and easier access for management while us administrators are out at events and such.
Facebook connectivity will also be included which should allow users to login using their facebook credentials and link right up to the site. 2014 should be a fun and exciting year for us here at Liveonceenjoy.com . Please join us in the fun and show your support. Contributors are always welcome. We will be looking at separating out recipes and diet things into their own categories.
---
Running Through The Pain
- Posted by
Kevin
- Posted on 01/04/13 02:51PM
A couple of months ago, I picked up running as an alternative form of exercise when I simply don't have the time to saddle up and get out on the bike. Of course, after taking such a long time off from running, there is a slight learning curve as well as some physical changes and issues to deal with since running in high school. With these changes and the extended time off, there is quite a bit of pain during the rebuilding process, not just in my muscles but the joints and tendons as well.
A few of the causes are pretty simple to understand but less simple to avoid. Others, just take time and the recognition to not overdue it and impede my progress in the future. Where I reside, the area is quite hilly which results in a minimum ascending run of about 200 to 500 feet for every couple of miles. This makes it quite a bit more difficult to run a pain free and steady pace. Intervals can be a good way to practice certain stretches of hills or flat trails and allow for maximum muscle growth and provide you with the opportunity to run in the safest sections without facing injury.
Most of my pain comes from the long time off of running and attempting to get back into it in such a hurry. My average run is about 5k or 3+ miles, however I have noticed that when I try too hard and overdue it on a particular run, for the next few days I certainly face the consequences. Traveling up and down stairs can be difficult on the knees and muscle soreness makes subsequent activity harder to get into comfortably.
I have been told by a few friends and experts in the field, that I simply need to stretch more before and after my runs as well as my bike rides. I realize I do have the tenancy to be in a rush and forego the stretching altogether. This is something I plan to focus on and remedy over the next few months and my ongoing cycling and running activities.
The cold weather does not help keep muscles warm when I am forced to stop for red lights, or passing riders/runners. I try to counteract the intense cold with under armor base layer leggings and a base layer longer sleeve shirt covered by a favorite hoodie and active gear outer pants along with a hat and some running gloves and clear glasses. Dressing appropriately helps avoid the immediate suffering from the temperature and other elements like rain and snow.
Follow me as I stride to achieve running improvement throughout this years cycling season and leading up to it. you can follow me on strava for my most up to date and accurate information on my courses, times and distances.
---
Training With GPS Devices
- Posted by
Kevin
- Posted on 11/21/12 06:25AM
Training in the 21'st century means we have access to some incredible tools to aid our involvement and improvement in our respected sports. Electronic GPS devices built specifically for individual sports and even smart phones with downloaded apps can be one of the single most useful and self motivating tools available to us. There are a small variety of options when it comes to devices and or software/websites that analyze data properly.
Strava and MapMyRide/MapMyRun are the two most dominant and widely used websites for cycling and running. There are quite a few similarities and a couple of differences between these two sites. Both Strava and MMR offer free accounts and free downloadable apps for most GPS enabled smart phones. Both keep track of distance, speed, elevation and overall times on segments. The key differences are Strava is much more training oriented where I believe MMR is much more commuter/touring oriented. I find the statistics from Strava are much easier to utilize and compare to yourself and others. The segment portion does a much better job at providing podium status' and comparisons between community who also did that segment previously. Both MMR and Strava can import GPX/KPL files as workouts but I have Strava imports and exports data more efficiently. The big benefit to MMR are the mapping features. You can can save courses ahead of time and follow routes while watching the map.
Choosing the correct device can make a difference depending on the type of activity and how much are you are looking to accomplish with it or get out of the device. Without buying a Garmin or other GPS specific device, you can always start off by using your smartphone with GPS. The issue of battery drain becomes very apparent after just 3 or 4 hours of use. Strava seems to be more battery efficient than MMR, I am guess due to the mapping features and continuous data transfer. Garmin's line of bike specific devices like the Edge 200, 500, 800, 305, 705, 605 and 205 are all cycling computers with GPS and features built in. The 200, 205 and 605 do not do cadence or heart rate monitoring like the others do. For running, Garmin offers a full lineup of GPS enabled watches starting at around 90 US dollars and working their way up to about 600 US dollars. The ForeRunners work from a variety of options starting with Pedometer readings all the way up to high sensitivity GPS tracking. All devices have the ability to upload to GarminConnect or Strava directly from a USB cable.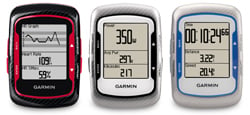 The motivation and training data these devices and applications can provide you with as an athlete in training is virtually priceless. For cycling, once you define and learn to use the segment builders or comparison tools you can rate yourself against other riders or previous rides and keep track of your person records automatically. Simply knowing that certain segments are there gives you the mental edge to enter the segment more intelligently and prepared as well as paying attention to data like heart rate, cadence, grade, elevation and speed all at the same time. Most of the data becomes more and more useful the more often you ride and can compare data. The same thing goes for running but it automatically breaks down your standard distance gaps and actual paces. 1k, 5k, 1mi, 2mi, 400m, etc... times all proved to you with your elevation changes after you sync your device with one of our two favorite websites.
I personally use the Garmin Edge 305 with HRM & Cadence. Some of my favorite features are the back lit screen for night riding, ability to create your own data screens, and the 12-16 hour battery life on the device. I got so sick and tired of having to start my rides with a full cell phone battery just to be somewhat scared that if I needed my phone on the ride, the battery would have died. The 305 series is no longer available as it is a few years old, but the 500 series is pretty much the same setup with a nicer screen. Even though it is a bike specific device you can use it for running, hiking and my guess is paddling and skiing.
Much of life is a gimmick, but data is always useful. It can't make you go faster or farther but it can and will make you understand why and how to go faster and farther which is an intangible that you simply can't beat. Follow me on Strava!
-Kevin
---